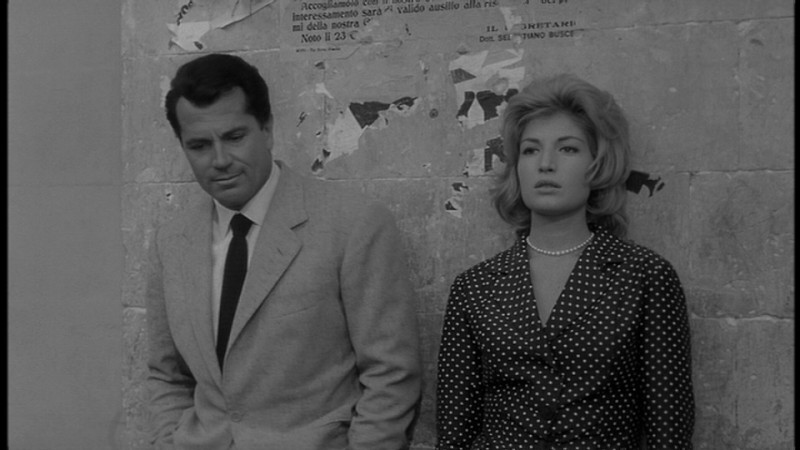 In this wonderful 60s film from Italian filmmaker Michelangelo Antonioni, a girl going missing on an island sparks a journey, across Italy in one sense physical, and in a far more meaningful sense - emotional that will leave its protagonists changed forever. Much has been written about the film already - including an excellent critique in
Senses Of Cinema
and an interesting review on Roger Ebert's site, so really i feel very much like i'm going over old ground here.
The title's ambiguity, translating both as
The Adventure
and
The Fling
is symptomatic really of the whole film's approach to narrative. There's barely a single shot in the film that's not executed to convey a variety of meanings and nuances - from the ever diminishing size of the key players in relation to their surroundings, to the use of deep focus photography to physically display the emtional distance between those characters. The lead couple - Claudio and Sandro believe, for a while that they have found love in each other's arms in the absense of the missing Anna (Sandro's girlfriend) but we, the audience never really believe this. Antonioni makes sure that through the way their scenes are staged the couple are rarely on the same level - either depthwsie or emotionally. They have a relationship, but it is one born of lusts of the flesh, a 'sick Eros' to paraphrase the director's own words. Through this central relationship, its emotional turbulence and voids, the facade of love the protagonists create, the director is able to slyly but assuredly pull apart what he saw as false moral fabric in 60s society. The way in which moral standards had not changed in line withs scientific ones by the late 50s seems to have angered Antonioni and, being a filmmaker, he was able to exorcise these false beliefs onscreen.
At every opportunity he sucks any possible emotion out of the screen, often leaving his characters set against a bleak empty background or in environments that makes them relative dwarves - large rooms either totally devoid of decoration or ornately addorned to the point of perversion (making up for in style, what the place lacks in feeling). Claudia and Sandro rarely stand next to each other, instead they are always apart - one close to the camera with the other set some way into the recessive background, trying futilely to reach out to their partner. With this total dearth of emotion in the frame, balanced by its own unique compositional efficiency and aperture artistry one can't really feel sympathy towards the couple; indeed empathy is probably the last thing Antonioni wants from his audience here. It's far more challenging for the film maker and viewer alike for the film to reflect on its audience and, more impoortantly, to challenge that audience's preconceptions.
And challenging preconceptions is what this film is all about. Fellini did it rather stylishly in
La Dolce Vita
, exposing bourgoise decadence for the hollow sham it really is but here Antonioni takes this a step further. Whereas in
La Dolce Vita
there are moments from which sollace can be sought along with a degree of hope there is none in
L'Avventura
. The only emotion that can really be directed towards the protagonists is that of pity; disdain may be too strong but the total lack of self-awareness on the part of the couple is, for the most part, astounding as they chose to cling to what they believe is love when anyone around them can see they're merely engaging in a selfish self-satisfactory carnal ballet. Come the end, in the film's closing shot, after Sandro has shown his contempt for idealistic youth and given into his libido one time too many, all that is left in their final embrace is mutual pity. He knows what he has become, how his social comfort has robbed him of his emotional counterpart and she - she finally sees herself as the pathetic vacume of emotion she has become. Looking desperately for love where there is none to be found, clinging ont even the merest fragment of hope no matter how unrealistic or short-lived that piece may be.
An irrefutably beautiful film, pervaded from the outset by bleak melancholy this film pities the people within it and the society that produced it but it does not scoren them. If Antonioni was to get what he wants we would learn from their mistakes, move on in the world and adjust the moral boundaries to more reliastic contemporary ones and ironically, hopefully, not fall inot the trap of total emotional desolation as the protagonists have done. Every line has meaning, every shot is a painting that could be hung on the wall, on a remote Italian isle Antonioni through an undramatic, emotional void has carved out his very own timeless masterpiece.
Roger Ebert's review
Senses Of Cinema article